Past editions
MÉDITERRANÉE(S) - Festival 2010
Le Tombeau des baigneuses
First performance
A young man dreams of reforming the world. He is in a state of shock from a terrible image: two dead bathers on a southern Italian beach. He wants to start again from scratch. From fantasy to fantasy, we are drawn into his world. Two women – ghosts, realities, memories? – inhabit the space like the mirrors of his conscience. The three characters evolve in a musical environment which echoes the interior wanderings of the young man. These worlds merge and become confused, in a series of magnificent polyphonies.
Chaly Marty
comédien

Maud Chapoutier

Pauline Huruguen

comédiennes

Jean François Estager

composition électoacoustique


Mathilde Billaud
réalisatrice son


Adèle Grépinet

Marie Boethas

création lumières


Raphaël Patout
ass. mise en scène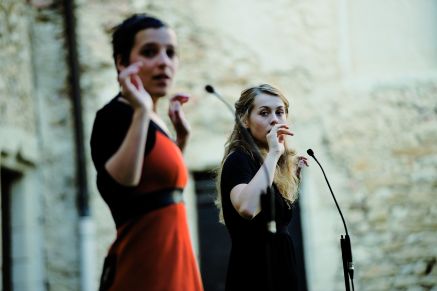 © J. Kerling
A coproduction between the Ambronay Cultural Encounter Centre, Aragon Cultural Centre – Oyonnax, Grame – Centre national de création musicale, Compagnie des Infortunes. The company is supported by the town of Ambérieu-en-Bugey. With the support of the Théâtre de L'Elysée Lyon.
---
---