Festival eeemerging les 8 et 9 octobre 2016
Issus de toute l'Europe, 8 organisateurs associés à 37 partenaires de premier plan dans le domaine de la musique ancienne ont décidé de s'unir pour un projet inédit et novateur de soutien aux jeunes ensembles : eeemerging (ensembles européens émergents). Ce projet est soutenu par le programme Europe Créative de l'Union européenne.
En septembre 2015, un jury international a sélectionné 6 jeunes ensembles dont le travail reflète l'incroyable vitalité de la musique baroque en Europe : Nexus Baroque, I Discordanti, Prisma, The Goldfinch Ensemble, Consone Quartet et The Curious Bards.
Ces 6 ensembles se produiront lors de la 3e édition du Festival eeemerging les 8 et 9 octobre 2016, organisé dans le cadre du Festival d'Ambronay.
Samedi 8 oct. - 11h
Clair-obscur par Nexus Baroque
L'aurore, les lumières de l'âme par I Discordanti

Samedi 8 oct. - 14h30
Chromae, les couleurs du baroque par Prisma
Illumination par The Goldfinch Ensemble
Dimanche 9 oct. - 11h
Les maîtres viennois par Consone Quartet
Gaelic storm par The Curious Bards
---
Ces jeunes ensembles ont été captés et sont diffusés par Culturebox.
Tarif : 22 € par concert.
Informations et réservations : ici.
Pour en savoir plus sur les jeunes ensembles, rendez-vous sur www.eeemerging.eu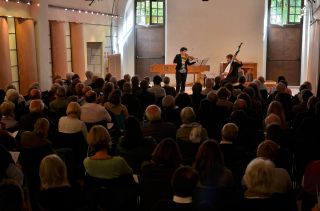 © CCR Ambronay - Bertrand Pichène
---
---