Past editions
Festival 2017 - Vibrations : Souffle
Nouveaux souffles
Les Surprises Ensemble associé au label Ambronay Éditions
Louis-Noël Bestion de Camboulas

Le Festival célèbre la parution de deux enregistrements tout nouveaux, tout chauds de l'ensemble Les Surprises chez Ambronay Éditions.

BACH AND FRIENDS | 15h30 Gratuit
En guise de mise en bouche, Louis-Noël Bestion de Camboulas accompagné de Lambert Colson au cornet à bouquin présente quelques échos du disque Bach and Friends paru cette année chez Ambronay Éditions.
Œuvres de Bach, Scheidemann, Buxtehude...

L'HÉRITAGE DE RAMEAU | 17h
Dans l'esprit des soirées du Concert Spirituel, Les Surprises et l'organiste Yves Rechsteiner font tourbillonner les concertos pour orgue et orchestre à cordes sous forme d'arrangements des plus beaux airs d'opéras de Jean-Philippe Rameau, dont les fameuses Indes galantes.
Concertos pour orgue et orchestre d'après Rameau & œuvres de Haendel, Francœur et Rebel.
Pour Bach and Friends :
Louis-Noël Bestion de Camboulas orgue
Lambert Colson cornet à bouquin
Pour L'héritage de Rameau :
Yves Rechsteiner orgue
Ensemble Les Surprises
Louis-Noël Bestion de Camboulas clavecin & direction
Les Surprises est ensemble associé au label Ambronay Éditions, pour lequel il a publié plusieurs disques, disponibles à la boutique du Festival. La Caisse des Dépôts est le mécène principal de l'ensemble Les Surprises qui bénéficie également du soutien du ministère de la Culture et de la Communication – Drac Nouvelle-Aquitaine, de la ville de Bordeaux, du Conseil régional Nouvelle-Aquitaine, du Conseil départemental de la Gironde, de l'Adami, la Spedidam et du CMBV. Il est en résidence au festival baroque de Pontoise et membre de la Fevis.
---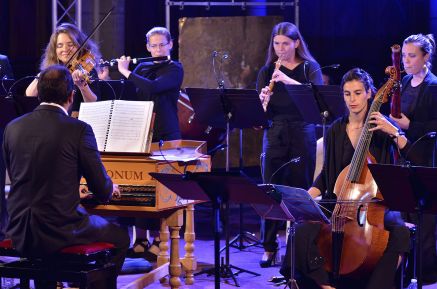 Les Surprises ©Bertrand Pichène
---